06/04/21 12:16
Why we moved from Squamish to Powell River

Nadine Schuurman
Why did we move from Squamish to Powell River? Well, it's complicated. It's about money, age, urban versus rural preferences, mountains versus ocean, Covid-19, climate change, the changing nature of work and some personal things.
We lived in the Corridor for just about 14 years. Seven of those years were in Squamish proper, well Brackendale. So my partner and I really felt like part of the Sea to Sky. We were committed to the Corridor; we felt identified with the mountains, the trails and the river that we lived next to. We had a special love affair with the birds who flocked to our feeder in the fall and winter, both the homey birds and the passers through. We felt pretty proud of Squamish as it got more good restaurants and cafés, and that cool mountain town vibe just got deeper.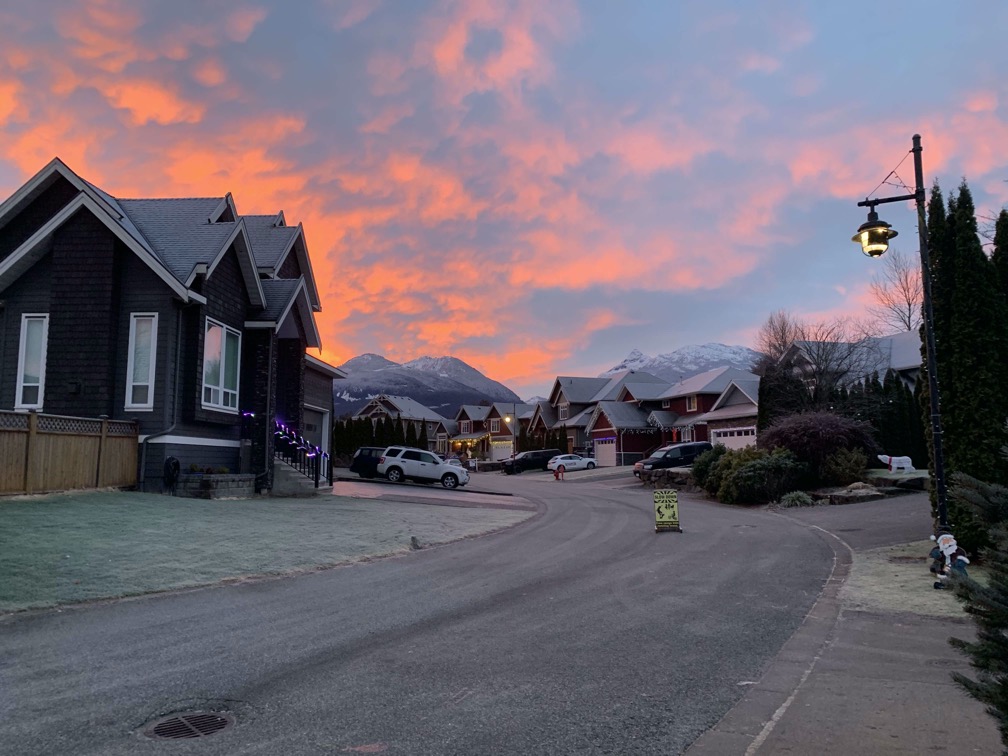 Squamish in the early morning light – from my last run in town before we moved. Those mountains …

The gondola was like a gift from the Gods. after I broke my leg backcountry skiing in 2017, I could only hike or run
uphill
for months. I did laps under the gondola, luxuriating in the easy descent over Howe Sound. And the trails were magical with their trees and moss, the easy to access vertical and our proximity to the alpine closer to Whistler.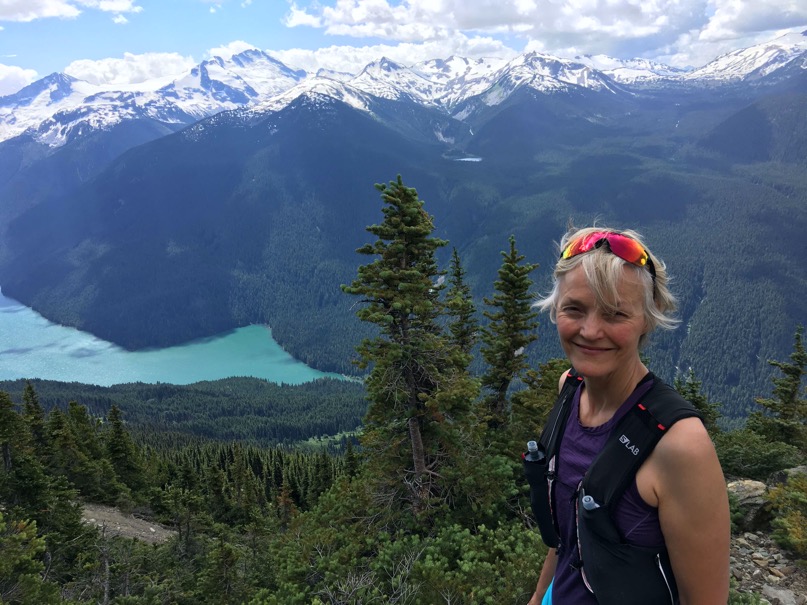 Gondola hikes

My partner started fishing and opened up yet another hidden in plain sight treasure of Squamish. Fishing also connected us to the people who lived in Squamish for decades and centuries before us. There was suddenly not just salmon in the rivers but Pinks and Chum, Chinooks and Steelhead. Every season and weather change was like a mystery algorithm that yielded different fish (released of course).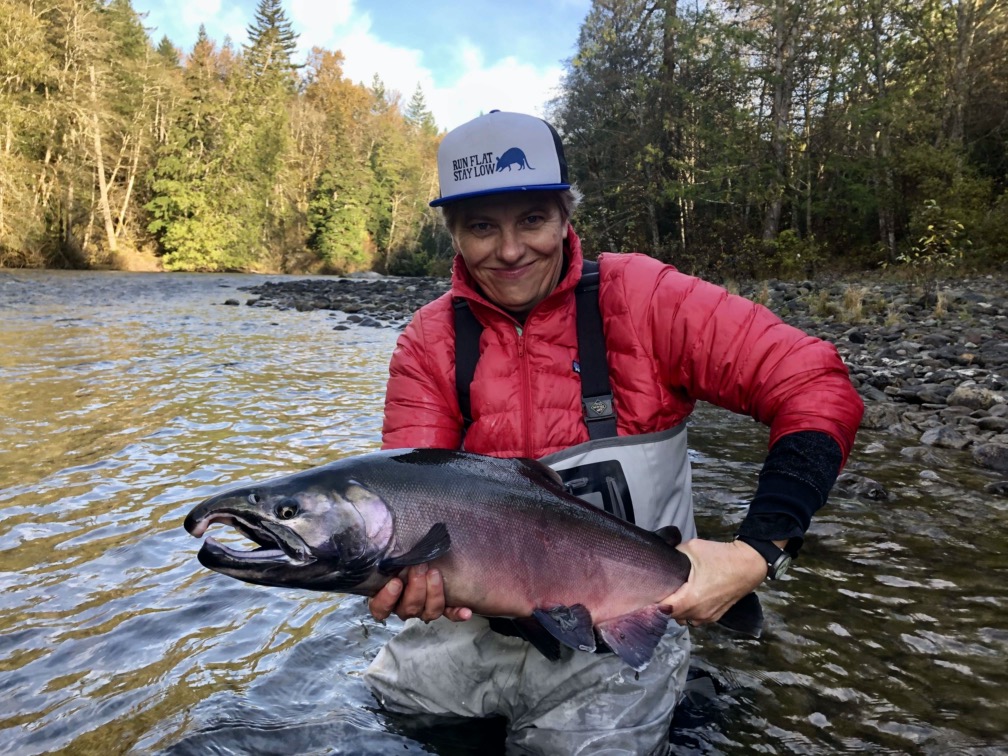 A proud day.

After we first moved to Squamish, when we told people that we were moving or had moved, often a dark, worried look would come over them. Some friends asked in a reserved, neutral tone "why did you move there?" Now 7 years later, they congratulated us on our prescience and our real estate good fortune. When I told students, at the institution where I teach, that I lived in Squamish, they thought that I was super cool. Some would say "I am so envious." They are right to want to live there. Squamish is the magic shop.
There were other things going on though that slightly tinted the magic of Squamish for us. First, and this is so cool and wonderful, there are loads and loads of people in their 20s and 30s. It's really hard to find an older person in Squamish. Of course we, and they, are there but the overriding demographic impression is one of youth. Canada census shows Squamish as being one of the most youthful towns in British Columbia, indeed all of Canada. At one point, it had the highest birth rate in Canada. Which makes it even more special and interesting. As my partner and I got older, we loved the youth but sometimes just wanted to run into folks more like us. Not a pressing concern but just something that we registered from time to time.
This will sound funny to an urbanite, but we found traffic a little taxing. I mean, you only noticed it if you went out between 3 PM to 5:30 PM or drove to the city early in the morning. But it was there. And the road noise is constant now (with a brief COVID-19 interlude) as the cool kids travel from Metro Van to Squamish and Whistler. And the building supplies and milk and apples they need follow them up the 99.
There were other little changes in Squamish that reacted with changes in us. It was as if both Squamish and we were altering our chemistry just slightly and suddenly we seemed farther apart than we used to be. Plus, even though we bought in Squamish before the full toll of the real estate spike hit, we had a mortgage that meant we didn't have a huge disposable income. That is the part of living proximate to Canada's second largest city that we all don't talk about that much.
In September 2020, eager to get out of the pandemic ridden metro Van and environs, we rented an Airbnb in Powell River. Truth is, we had never been there before. We knew that people from Squamish had been emigrating to Powell River over the last decade, but we didn't know any of them. We wondered if they were former mill workers or just wanted to cash out of Squamish.
You have to take two ferries to get to Powell River from the Mainland so it isn't a trivial undertaking. You might cover 150 km but you are not driving many of them. You are sailing them. Getting on the ferry and sailing away from Horseshoe Bay is like closing a gate very firmly. You feel the distance between that life and wherever you are going. By the time we got off the second ferry in Saltery Bay, we felt like we were entering a portal to a different land.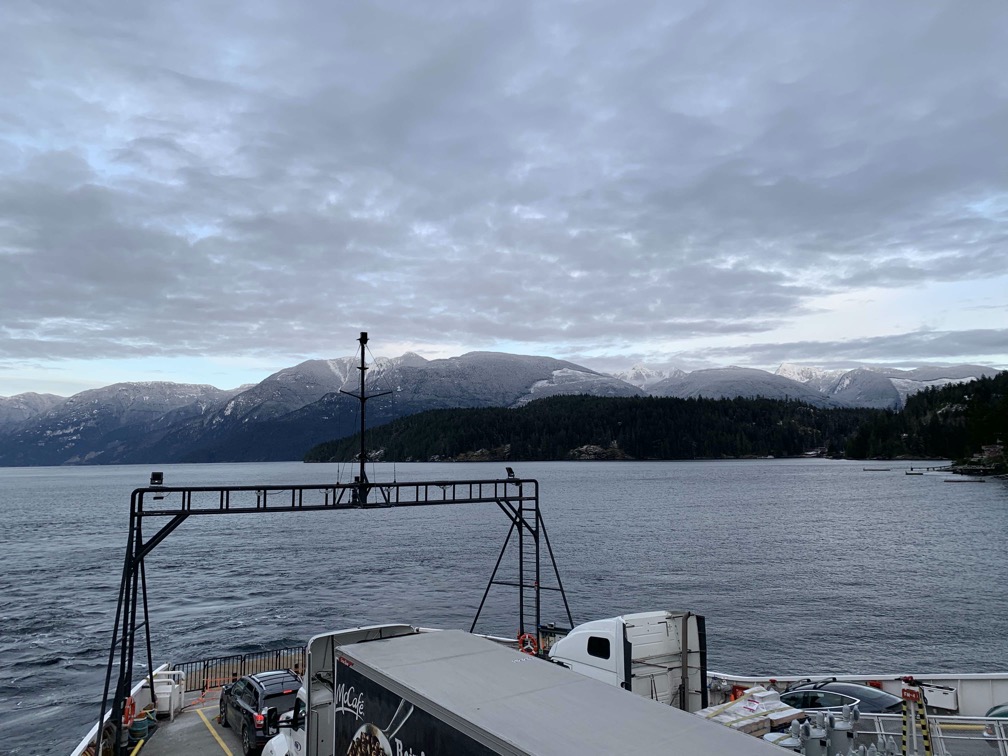 On the ferry from Earl's Cove to Saltery Bay. Powell River is the end of the line.

First of all, everything in Powell River faces the Salish Sea. You are always looking at the water from wherever you are in the town. In Squamish, we were always a part of the mountains and suddenly we were part of the sea. You can see the mountains in the distance but they are not close enough to be as magical. Where we were staying in the Airbnb, we could hear sea lions on a rock all day long. But their chortles and cries did not seem as abrasive as the traffic on Highway 99.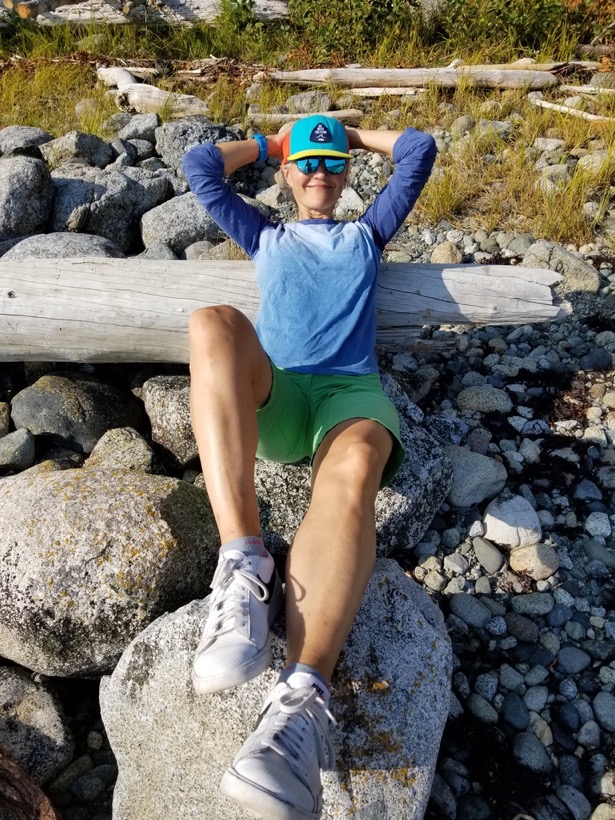 Me on the beach in Powell River in September 2020 on that fateful trip.

We walked the beaches and I ran the roads and trails with our dog. And then, on the day before we left Powell River, my partner turned me and said let's move now. What? I shrieked. You must be kidding, just throw away our jobs, everything we've built in Squamish, and decamp to somewhere 1,000,000 miles away. Forget it. That is a hard
no.
We drove home in a cloud of smoke as the West Coast of California and Oregon burned in the Fall of 2020. Few words were spoken and it felt like a domestic was brewing in our vehicle. Almost as soon as we got home, I left for Whistler to help a friend with a personal running achievement, and I spent three days mostly on my own. During that period, I talked to my mom on the phone. It was during that period before the US election when it felt like a Civil War was brewing, compounded by COVID-19. She made the point that maybe my partner was right, and we could pretty much get out of debt, and we had some time that we could work at home (thanks to the pandemic) before we would have to start schlepping into the city once a week.
And my partner worked on me as well. Think about it! We could have an acre of land, be next to the ocean (well a climate change safe distance away), have exactly half the rainfall and more hours of sunshine. There are coffee shops and restaurants and everything we need in Powell River plus thousands of kilometers of trails with almost nobody on them. There is no traffic noise because, well, there really isn't much traffic. This is the end of the line.
I want to see my massage therapist in Squamish during this critical period, prepared to commiserate about my impending forced exile. To my surprise, she said to me "think about it: Powell River is the West Coast of British Columbia. Nothing can really go wrong with that type of move." She finished by telling me that her secret plan was also to move to Powell River when her kids were finished high school. Not much support there.
When I phoned our lawyer to explain that we were going to sell our house and buy another one and needed legal support, the conveyancer related to me in great detail how many of their clients were moving to Powell River from both Whistler and Squamish. I guess we really are not that unique.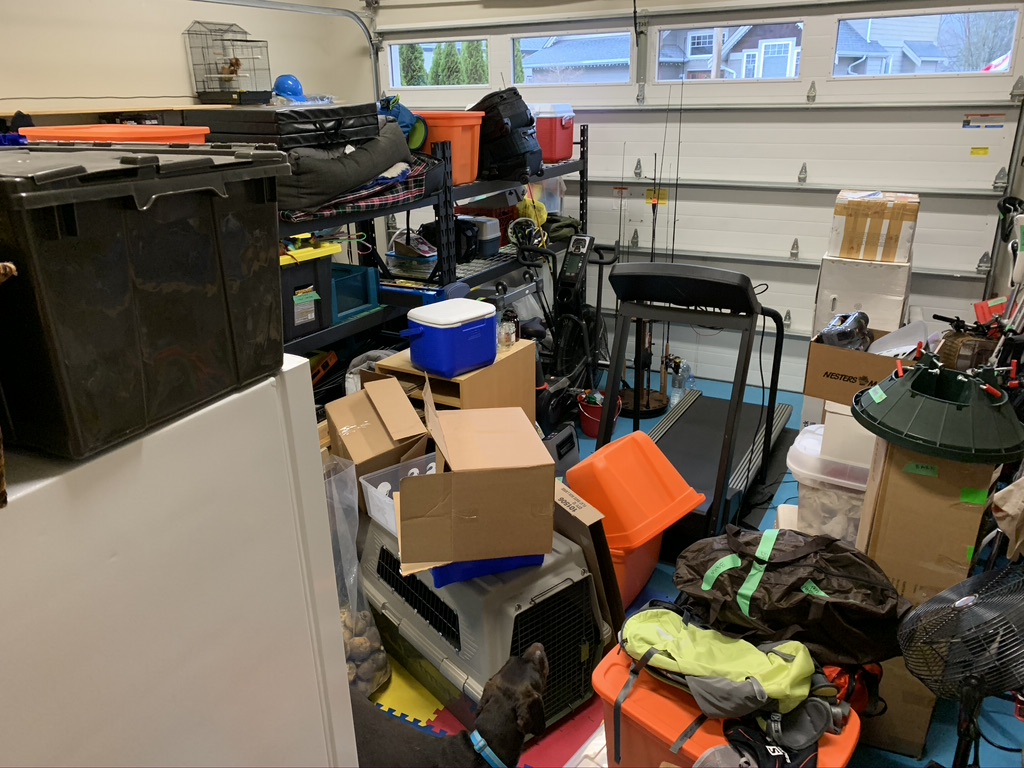 Moving sucks.

Moving always sucks. Don't let anyone tell you that it will be an easy move wherever you are moving from-to. But now that we are here, going into Squamish to wrap up some affairs or to meet a friend, feels very busy and somehow intensely urban. I love the ferry ride home where I feel I am entering a special portal to a magic place. On the weekends, after I go running, my partner and I often walk the beach. The two of us with our dog have miles of beach to ourselves and that goes for the trails too. They are hundreds of kilometers of them and almost no takers. Oh and almost everyone we meet here, upon learning we are new, says "Welcome to Powell River. "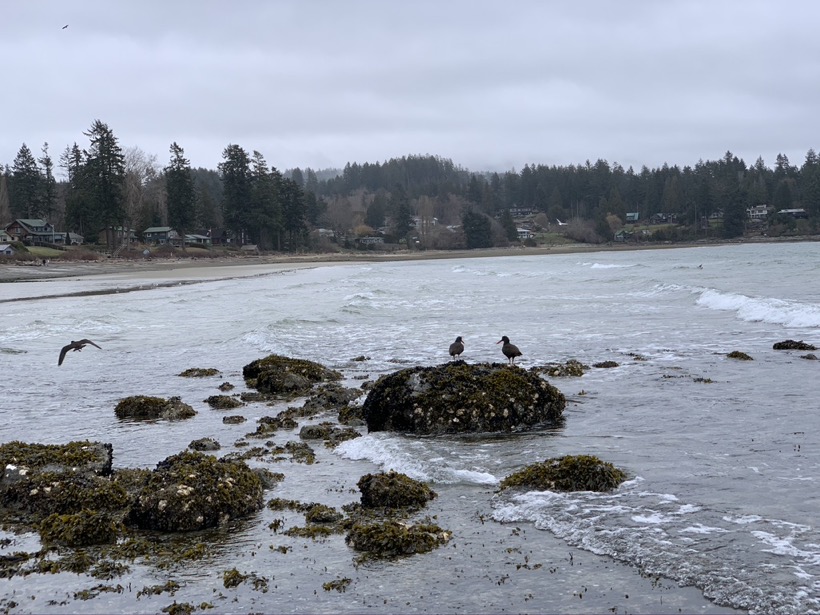 Welcome to Powell River.

I miss things about Squamish, the fact that you have pretty well everything you need right there. I miss the hip vibe, and the really cool outdoor clothes that you can buy right there, without having to broker through Amazon or another online commerce site. But really I miss my niece and nephew the most. Everything else ... well it turned out that I could just walk away from most of it.
So why did we move from Squamish to Powell River? Simple: Powell River is the magic shop.