11/11/17 17:34
When you tell people that your 85 year old mother knits and hooks, they smile warmly and approvingly. They picture an older woman knitting long scarves as Christmas
🎄
presents for relatives who may or may not wear them. But that is not the reality.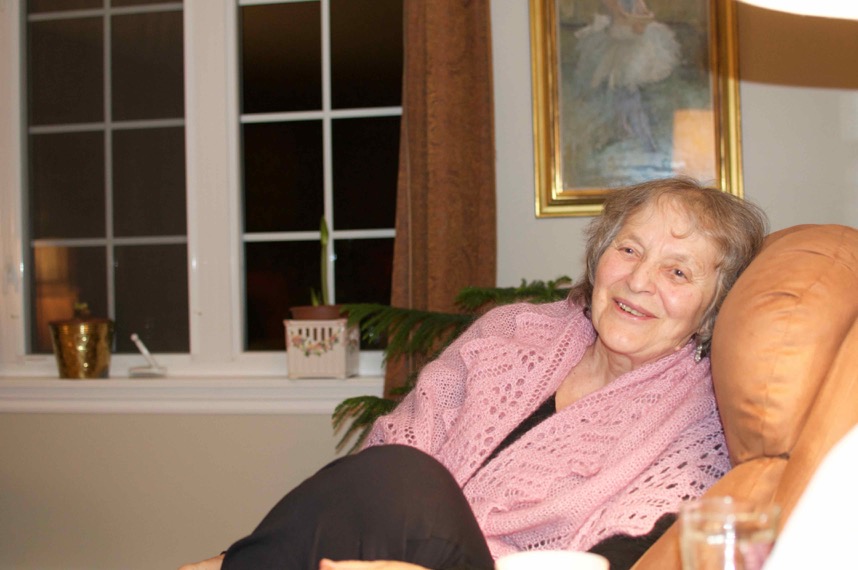 My Mother in a shawl that she knit

During the French Revolution, a row of women sat and knit in front of revolutionaries who goaded the peasants on. They knit the plans for the uprisings and they knit their hopes for a better future. So many hopes and dreams woven into wool.

That is how I envisage my Mom's knitting, as a way of folding art into coping with life's certain vicissitudes - mixed with love for her family and friends.

No one would say that Mom's life has been easy. Born into a wealthy, landed and titled family in Poland in 1933, the security of her position started to peel away when she was only 5. Her mother took her for a walk to tell her that her father - the one parent who adored her - had drowned in a sailing accident in the North Sea.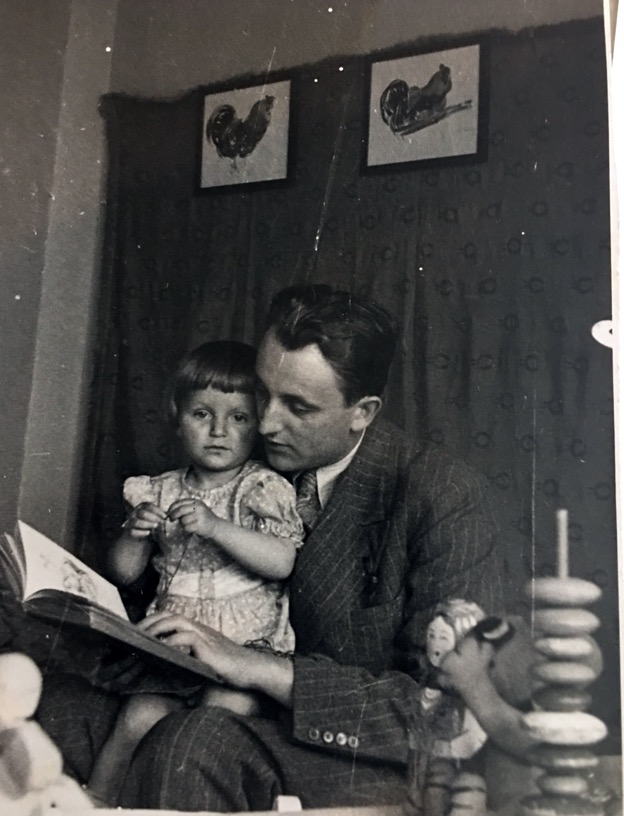 With her Dad

Mom still had her nanny/governess as well as her more aloof mother. Recently widowed and distraught at her choices in Poland, my grandmother took the highly unusual step of taking a job in the Polish consulate in Denmark. When the war broke out in 1939, the three of them were in Copenhagen - safe for now.

Ultimately the Polish government in exile moved to Nice. There was a long train journey through Sweden involved but the three relocated to France. My grandmother was intrepid. She would leave my mother sitting on a bench by the sea in Nice while she swam out for a mile or more. Mom remembers viscerally her fear as she waited on the beach. Only a little girl, but she knew for certain that she could be abandoned at any moment.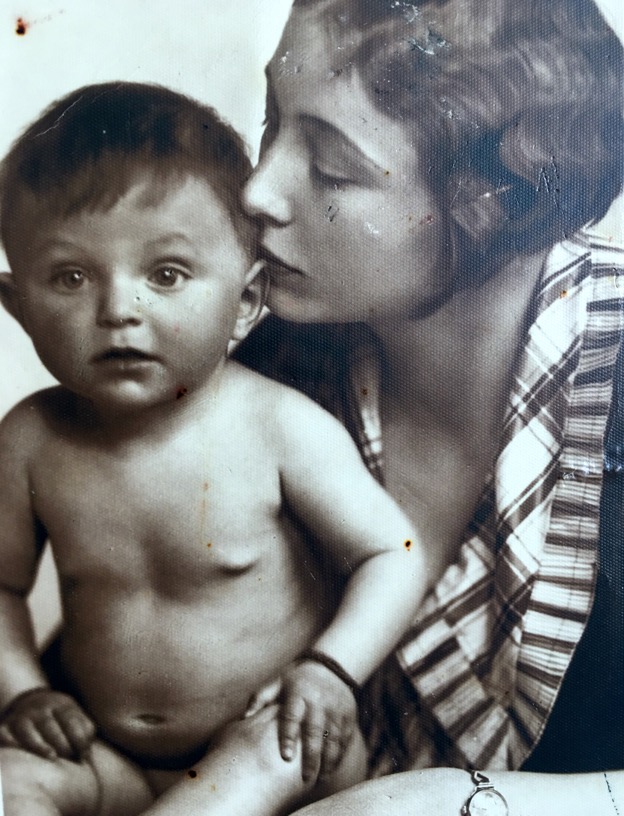 With her Mom (Ola Pawlowska)

One day my grandmother was walking to the water when she heard a radio announcer crying from a radio playing in a ground floor apartment. "This is the last radio broadcast from Free
🇫🇷
France". Then they played the Marseille.

In an instant, Grandmother Ola turned around and bought the last train tickets across the Spanish border to Portugal for the three of them. Safely in Spain, my grandmother decided to get off the train during a stop to visit an art museum- My Mom waited anxiously for her to return. But she missed the train. Later grandmother would rejoin them. But in the interim, Mom's worldview was solidified as she waited in terror.

There is so much more, a winter freezing in Portugal with no milk and no money, then a boat trip to America. They would have disembarked in New York but Grandmother thought that they needed $20 to enter the US. But it was $20 each. And that is how they arrived - sans nanny who was too frightened to risk moving between worlds - in Canada.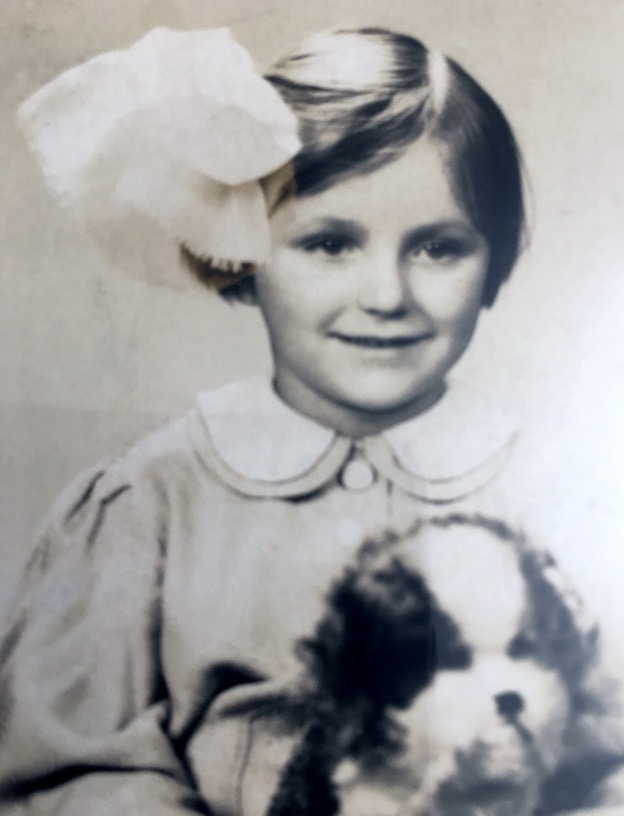 With a toy.

When we were kids, we moved a lot. Like a lot. Mom figures that she moved 30 odd times in her first 40 years of marriage to my Dad. You see, my Dad is/was a rolling stone. Just another young European invisibly damaged by the war.

What my Mom - the artist - had was knitting and us kids to anchor the constant adventure of moving. She used to tell us that we were her jewels, her gemstones. Nothing was more precious. When we were young and moving at least once a year, Mom knit for us. The first sweater I remember was red. My sister Hedda and I had matching red Cowichan sweaters with white stick figures on the trim and big brass zippers while we lived in Inuvik, NWT.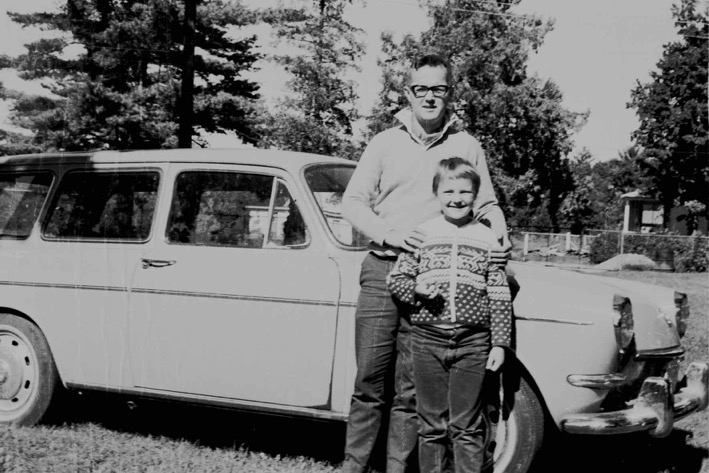 Me and my Dad. I am in an early sweater.

I might have been 4 or 5 and not appreciative of the effort. The Cowichans were just the launching point.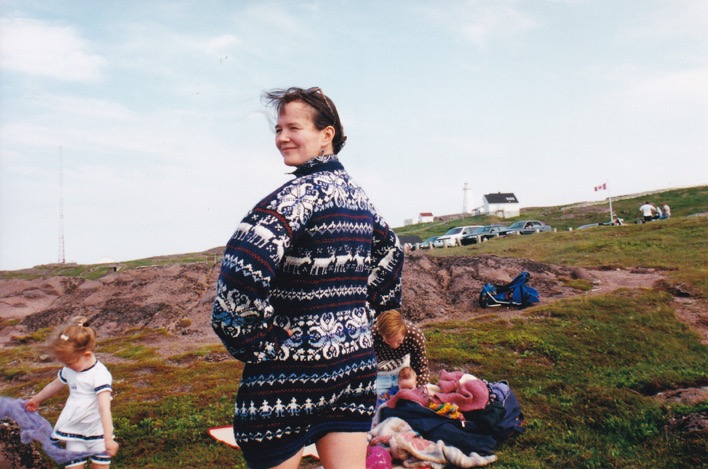 My sister Hedda many years later in a reindeer sweater that my Mom knit for her
I turned 10 in an airplane from Copenhagen to a US airforce base on the west coast of Greenland. Many things happened during the 13 months we spent in Greenland but the most lasting change was that my Mom morphed into a wool artist. Not that she didn't knit before. She did. But something about Scandinavian sweaters set her on fire.
In Greenland, we were all the recipients of classic Scandinavian sweaters with thick wool woven into traditional patterns. That was the beginning of a family ritual in which one of us kids would huddle over knitting pattern books with Mom. We got to pick the ones we liked but it had to be one that she also wanted to knit. So there was a lot of negotiation. Once the pattern was determined, we would discuss colour. Mom never exactly followed the pattern and certainly not the colour schemes so there was a lot of room for discussion. And we never knew exactly how it would turn out either. But each one of us loved that special alone time with Mom when we were her only focus and the future recipient of a sweater knit from love and artistry.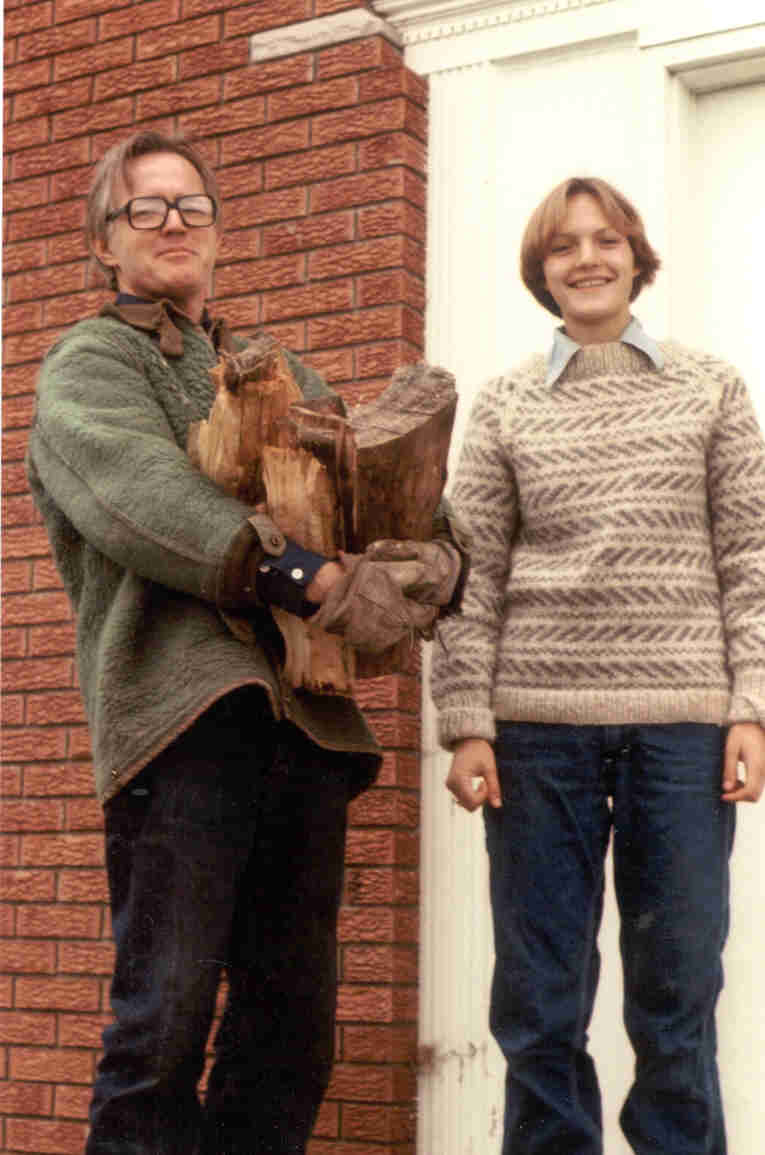 Me and Dad in 1976. I am in a Scandinavian sweater

Then came Kaffe Fasset. He was a wool artist who burst on the scene - maybe in the late 1970s. I don't think it is too dramatic to say that he blew my Mom's mind. Suddenly the straits of traditional knitting were burst open. Our tete à tetes were enlivened by the range of possibilities now open. Mom's knitting, never a template job, reached new horizons of creativity.


Sweater gallery
(click to view)

The years went by and - as the only child living in cold Canada - I have a closet bursting with sweaters. Some seem hopelessly old fashioned now; some are too big or too small (I am pretty constant but that is how it goes with knitting: you can load the same number of stitches onto the needle but the gauge of every wool is different). Mom has started selling shawls and sweaters at a local farmers market at Christmas.

But artists don't stay the same. Recently Mom started knitting with a very fine gauge wool allowing greater intricacy of patterns. The sweaters are more dressed up as a result. And Mom is in a Fair Isle period - with some creative twists.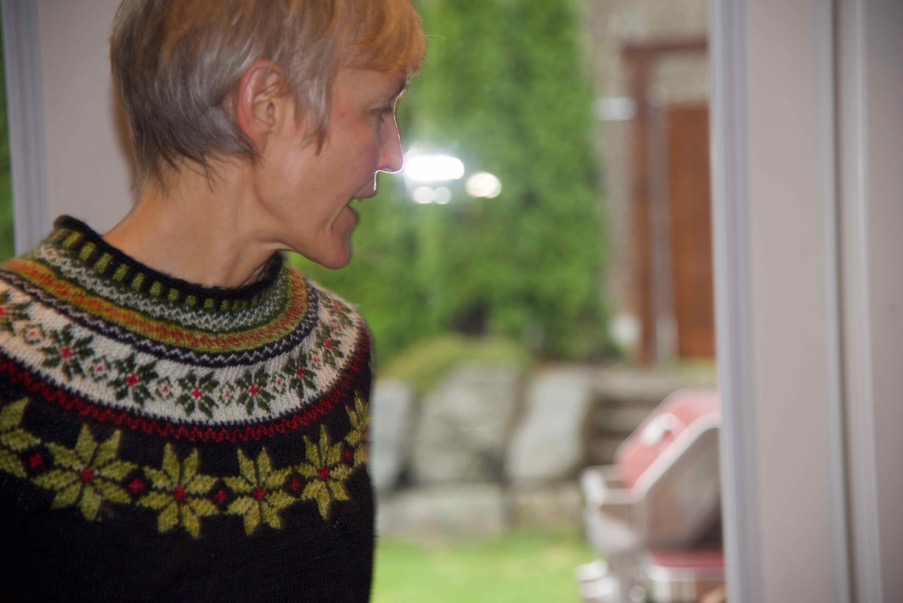 Me in my favourite Fairisle sweater


Hooking is a social pursuit for Mom. The hookers meet above a local Superstore on Thursdays and chat while they hook. Most hook traditional country scenes but not my Mom who recently hooked this Phoenix rising for me.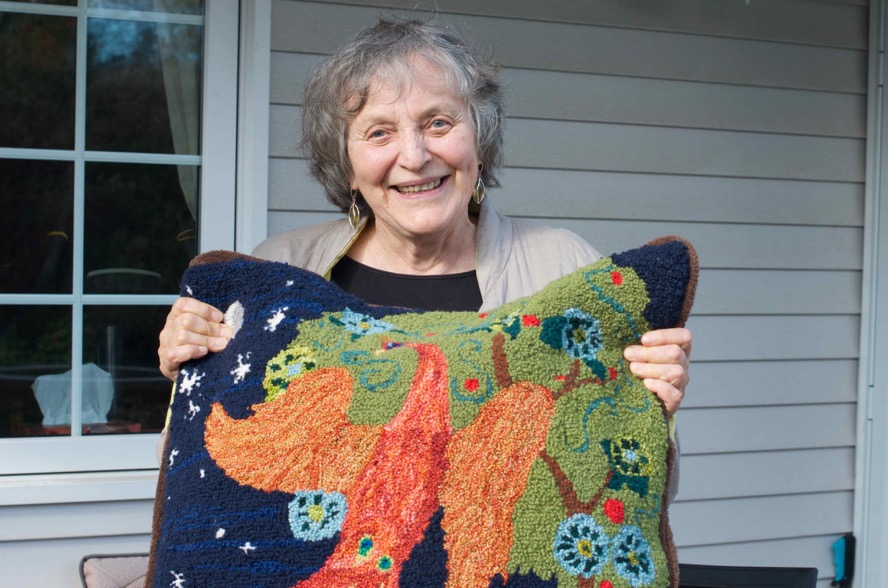 Mom is a hooker par excellence

My Mom's love for us, her deep creativity and her indomitable spirit are knit into her repertoire. Shakespeare said that
sleep knits up the ravelled sleeve of care
. So does knitting.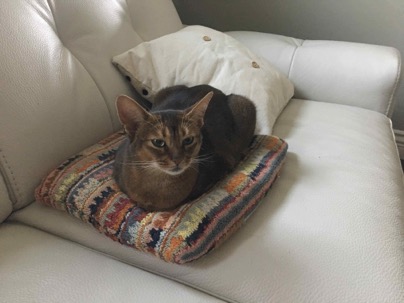 Peka the cat on a wool creation titled
colour of the Okanagan