Black Canyon 100K
21/02/19 14:42
I am sitting on a couch in a hotel room in Banff 3 days after finishing Black Canyon 100k. A crow lands in a tall pine and sits against the blue sky. Another crow joins her and they touch beaks. The second crow flies away. Just checking in. The first crow remains. Nothing else happens. I am exactly where I need to be, sitting and reflecting.
A long race is like a large meal; it needs to be digested slowly. In the case of BC 100k, there is so much that came before. Effectively it was my third attempt at the distance. In 2017, I trained through a long cold winter for The Canyons 100k in northern California but
broke my leg skiing
6 weeks before. In 2018, I had my first DNF ever in 30+ years of racing at WAM 110k (
read all about it here
).
I did not take the challenge of Black Canyon lightly even though the course was not especially technical with only 1500 m of climbing. As Gary Robbins told me in one of our coaching phone calls "there is no easy 100 km race" and "it is not a gimme." I wrote down two pages of notes while we talked and memorized key messages.

A key instruction!


So why Black Canyon in February - a race that entailed training through the cold, wet Squamish winter? To start with, after WAM I knew that I needed the psychological boost of actually finishing a 100 km race before I started WAM 110 again in September 2019. I started looking around for a suitable race. I found one in Québec in June but they did not allow earbuds. No way am I going to run for 100 km without music. I briefly entertained the Bishops Ultra in the Sierras in June, but Eric (my other coach) told me that it was over 40°C there last summer when he visited in June. Scratch!
Black Canyon was suggested to me by Alicia Woodside - who is practically a pro runner. I went home and told Lynne about it. She said Arizona in February during the reading week? Let's go. And that was that. Lucky for me, Black Canyon is a golden ticket race so there is plenty of information and videos about it on the Internet. Doing my research was easy, but I didn't want to get too worked up about it in advance so tried to focus on training rather then worrying.
All said and done, the training was pretty easy. The hard part was making myself go out for back-to-back runs in the pouring rain with slush soaking my shoes and general misery prevailing. Hector was a big help because he was always game.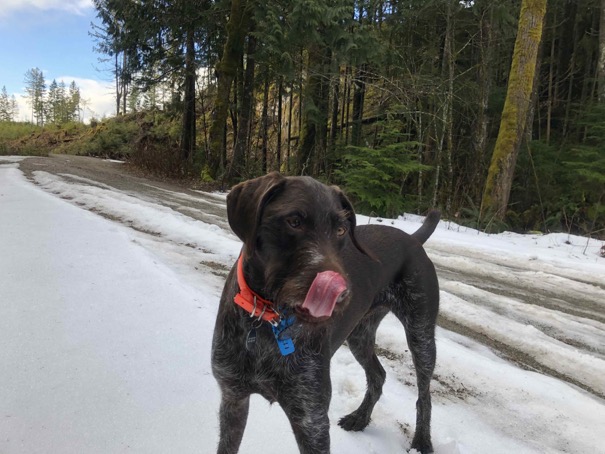 Note Hector is wearing the Suunto Vertical watch
Over time, we learned that he only had one long run per weekend in him.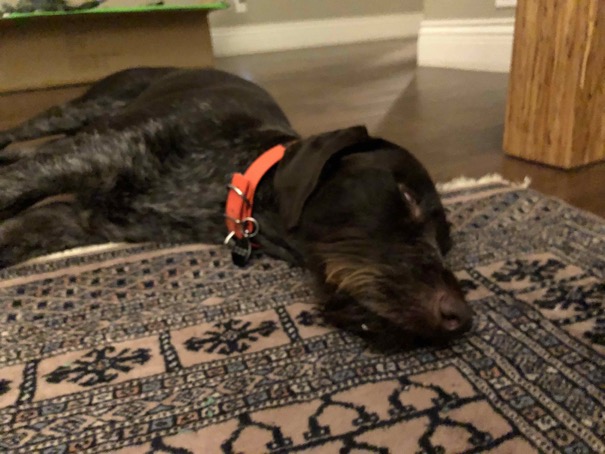 2 dimensional dog

Lucky for me there were a reasonable number of weekends without rain or snow. So my suffering was contained. And there were many moments of intense beauty that fed my desire to be in the mountains around Squamish.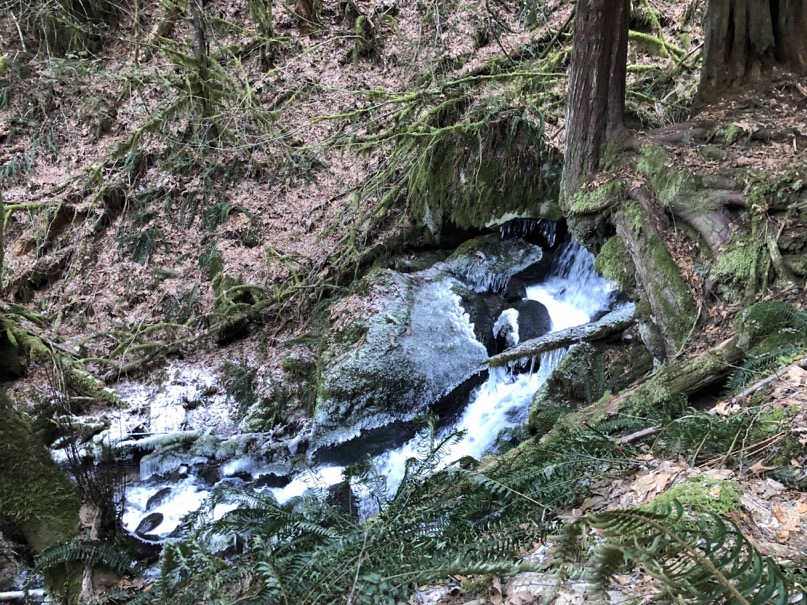 Filled with wonder

We flew down to Phoenix a few days early. Which was great because both of us hate to rush; we like to ease into new environments. I reserved a HomeAway rental in New River way way out of Phoenix but close to the planned race end.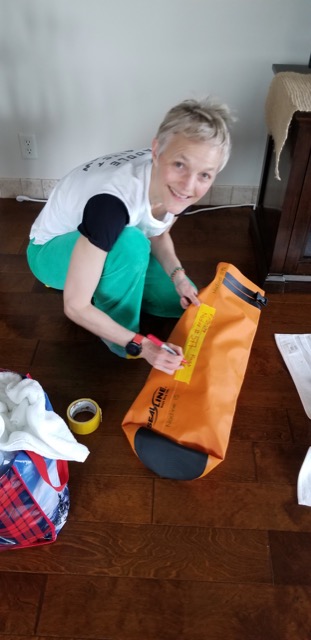 Marking up my finish line bag

I loved the race expo. It was held at an old time Saloon (the Roadrunner). Special interest was focused on new gear like the Kogalla headlamp alternative and run garb. After picking up my auspicious number (#577), we went to REI for a shopping trip. Both of us scored new Altra shoes and I bought some leggings for the expected below zero temperatures at the start
and
finish. Actually weather was an issue….
Course changes due to intense rain and flooding (yes it rained a lot during our vacation in the desert) meant that we ran the original 56 km of the course, then did a soul destroying out and back up an escarpment and down into a river valley and back until 65 km, then a second 35 km out and back along the course we had run earlier. I liked the second long out and back as it meant that I was familiar with that part of the course - which took place in the dark. A lot of dropping out happened during or just after the first 8 km out and back to the river as it was way up and then way down and then up and down again. Hard on the legs during a net downhill course.
Back to the start. It was a gong show. We drove into Arcosanti on mud that was 5 cm deep. Many cars were spinning their wheels. All runners were instructed to check in (as per the excellent runners manual) but there was no where to check in. Then rumours started circulating that check in was cancelled. There were drop bag boxes but they were truly overflowing. General gong show. Seriously the race was well organized but, as Gary (
Coast Mountain Trail Series
) can attest, weird climate change related race course alterations are now a part of the RD job.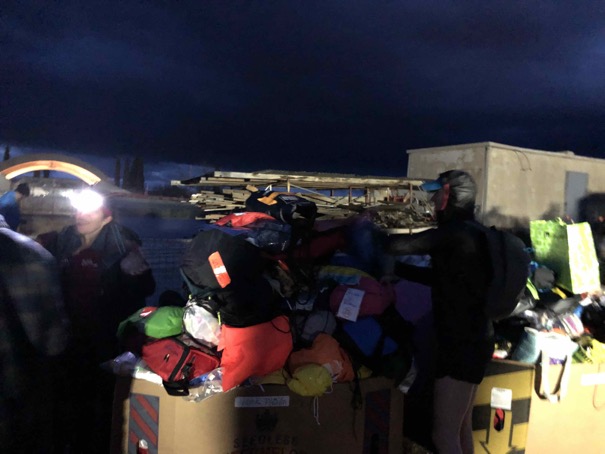 Bag drops at start line


I lined up near the back with the understanding that I was not in a hurry.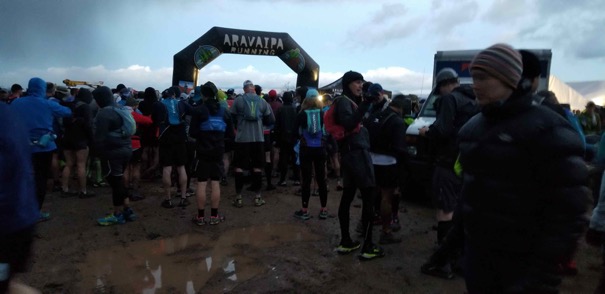 Did I mention it was cold? Me in striped hat to the right.

We started right on time - with no race briefing to slow us down. What slowed us was the mud. For the first 8 km, there were gobs of mud literally weighing kilos on each foot. Rocks were lined with mud as runners had tried without success to scrape their feet of this unwelcome extra weight.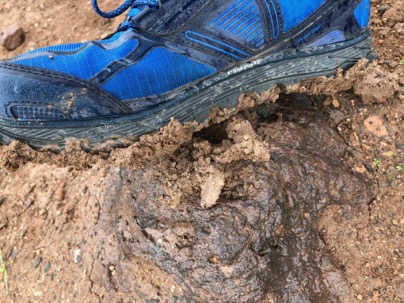 Mud galore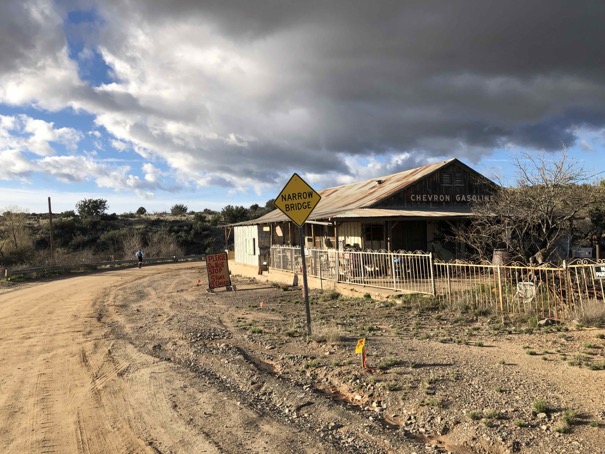 Early in the race, after the mud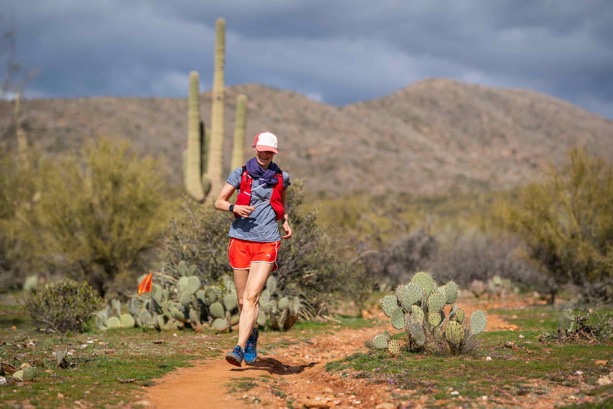 Coming into Bumble Bee (had to stop and take off my cold weather gear)



My goal was to stay present and run slowly for 50 km - which I did. Lynne waited for me at Bumble Bee Ranch (the first crew accessible Aid Station).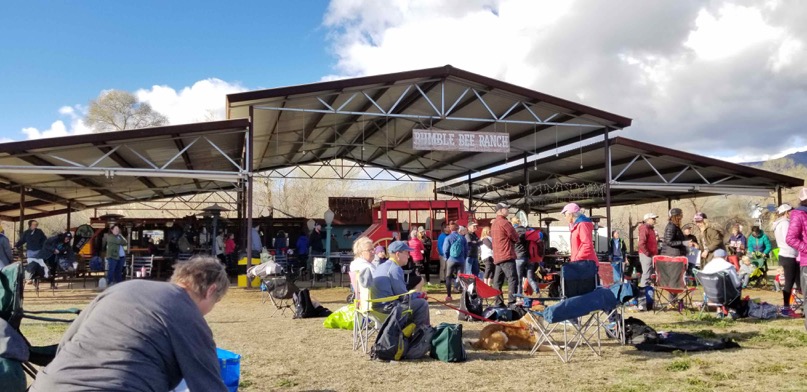 Hanging out (for quite a while) at Bumble Bee

I was later than my expected time and she really started to worry that I was overdoing the slow. She described watching "muffin tops" and old men jog in and still no Nadine. Ugh, she thought, just like the Hawaii Half Ironman where I was among the top third out of the swim but then stopped to take a shower to rinse off the salt before I headed to the bike transition - and let hundreds of people pass me. Eventually I jogged in with my leggings around my neck and various bits of warm weather gear hanging out of my pack.
But then something interesting happened for the very first time. I started to pass people. By the first time we hit Black Canyon City at approx 56 km, I was 30 minutes ahead of my fastest expected time. I spent time looking for my drop bag. Lynne had already claimed it so I wasted a bit of time before I finally found her.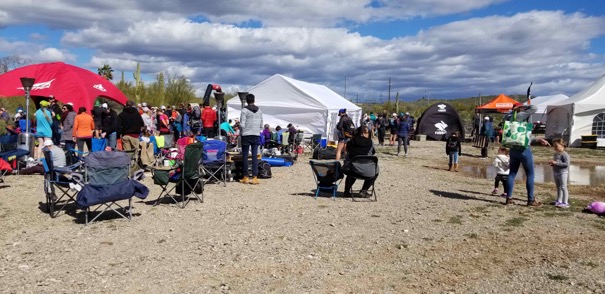 Base camp at Black Canyon City


I circled back to BCC after the short/hard out and back. By then, the sun was closer to setting and I loaded up my headlamp, more Maurten and hit the trail. I said to Lynne that I wanted to cry. No tears, she warned. Only 35 km left.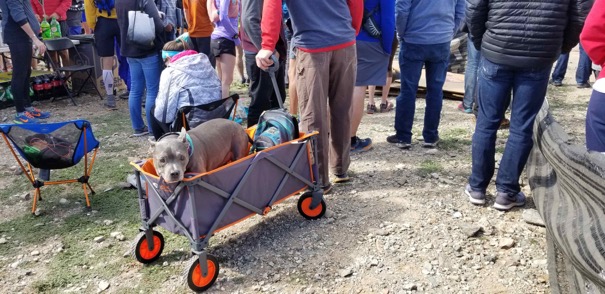 I love that this dog got to come too.

Funny story: as I was running along the side of the road through the very dishevelled town of Black Canyon City, a guy with a long hill billy beard (not the same as an ultra beard !) and snaggle teeth was saying - with considerable joy - to another man with same beard hanging out of a 1980s Ford pickup: they are running 62 miles and are going to finish at 2 am with headlamps AND they chose
our town
to do it in! So sweet.
Sunset was the beginning of the BIG PASS game. For one thing, I had been conserving all day and still had energy. Second, there was a lot of climbing in that last 35 km and I rock the hills.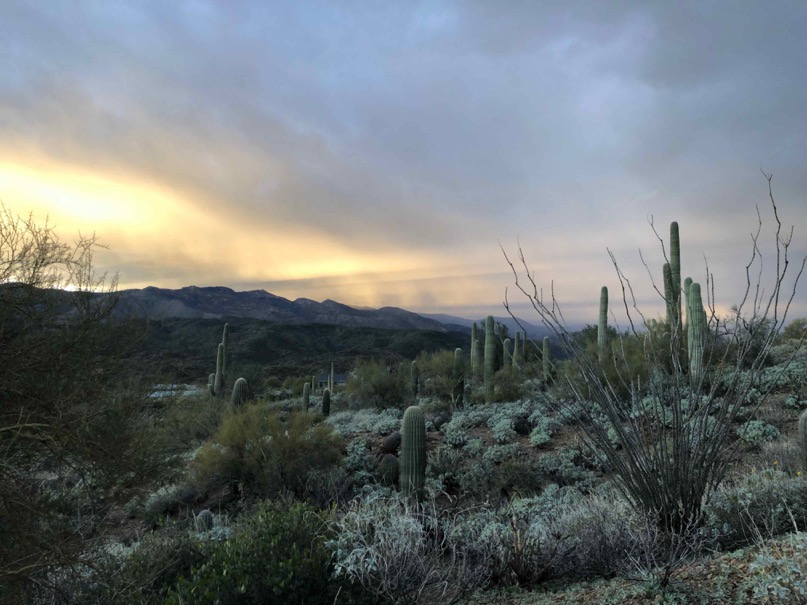 Sunset on way back to Gloriana Mine

When I got to Gloriana Mine (17 km from the finish), I picked up the 1000 lumen flashlight that Alicia had insisted was the game changer. It was. WOW. Light is the key to night running. So is Coke. On the way into the turnaround at Gloriana, I was stumbling and falling a bit, but after filling my flask with coke, I ran back to BCC and the finish line without a single swerver. Really helped with end of race nausea too.
Okay, so it was hard to pick up my feet on the last 10 km but I kept wondering "what would Gary do?" I knew he would run, so I did. As Courtney Dauwalter said "pick up your feet; keep trying."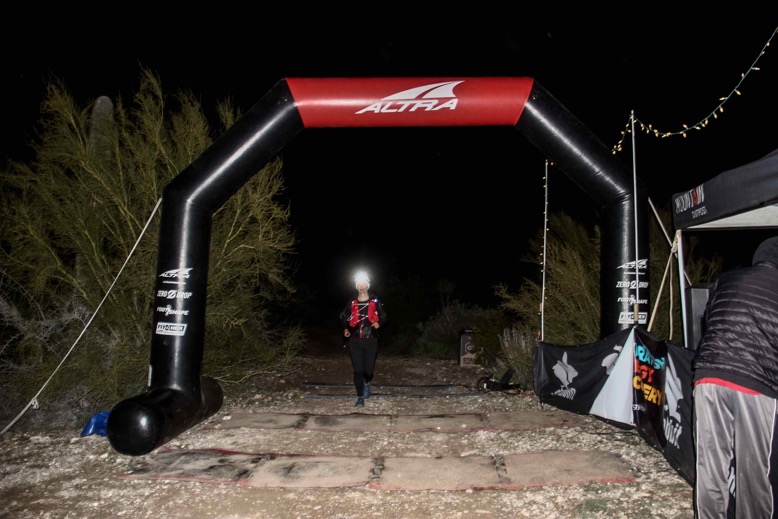 Approaching the finish line.

So happy to see Lynne at the finish waiting for me.
And the RD (Jubilee Paige) was there with a big smile. The best !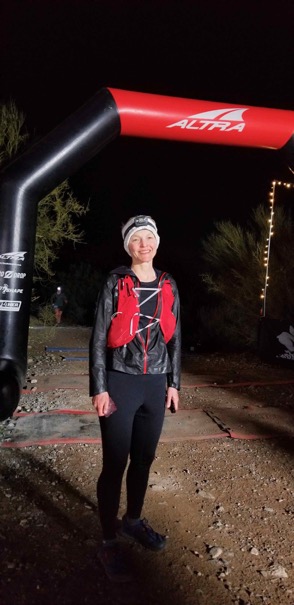 Tired but super happy (appearances aside)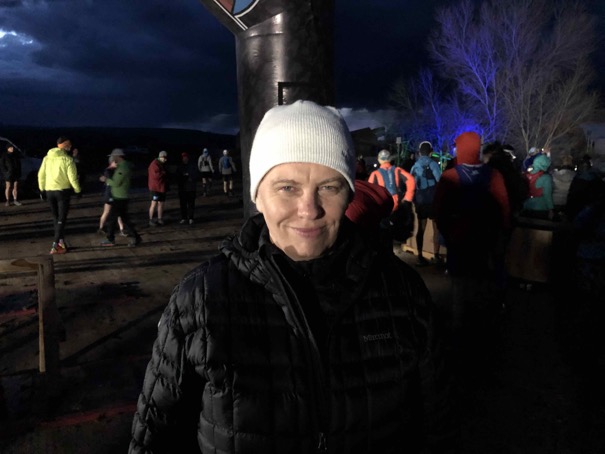 Who is that start line hero?


Nothing would happen (certainly not 100 km races) without support. Big thanks to my partner Lynne who encouraged me to sign up and to train through the winter and who crewed me for 15:46 (a long day). Thanks for Mom and Hedda and Izzy for thinking of me all day. Big thanks to Gary and Eric who flawlessly prepared me for the longest distance of my ultra career. You guys are the bomb (
Ridgeline Athletics
).
Details:
I placed 422 out of 512 finishers. But there were about 100 DNFs - which seems really high. Oh and 9/22 women in my 50-59 age group - which I am chuffed with.